A Wild New Pokémon Game Appears!
In a Pokémon Presents that aired last Sunday, February 27, 2022, the new generation of Pokémon appeared. Pokémon Scarlet and Pokémon Violet were revealed in a spectacular trailer. The new iteration of Nintendo's beloved franchise follows in the footsteps of the Sword and Shield entries: a sprawling 3D landscape, roaming Pokémon, and a similar, but improved, art style. Another huge reveal included the sprites and names of the three new starters for the region, which appears to be based on Italy. The image shown below is the three Pokémon from left to right: Sprigatito, Fuecoco, and Quaxly.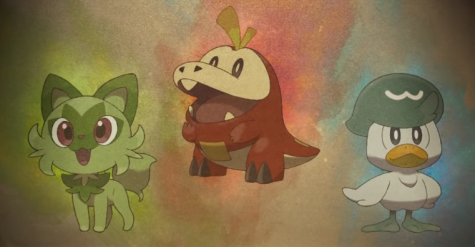 Not much else is known about the new game, other than its vague release date of late 2022. This announcement comes to the surprise of many fans, as four new Pokémon games, Legends of Arceus, Shining Diamond and Brilliant Pearl, New Pokémon Snap, and now Scarlet and Violet. This schedule is odd for Pokémon's developers Game Freak, as all previous major Pokémon releases has around two to four years separating them.
Some of the scenery in the game was shown off, with sweeping shots of towns and roaming areas. Pokémon of many generations appear to be included.
Besides this announcement, other smaller updates were given on many spin-off games. Pokémon Café, Unite, Masters EX, Brilliant Diamond and Shining Pearl, Legends of Arceus, and Pokémon GO all received additional content that has come out or will in the future.
For Pokémon fans, this is a great next step in the franchise. Not only were they showered in updates, but also got a completely new addition to the ever-growing world of Pokémon.