Stranger Things Season 4 Finally Coming in Summer 2022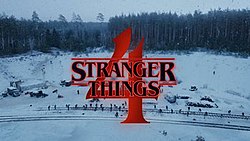 I'm a big fan of Stranger Things. I binged the series in 3 days last year and I'm not going to lie I've been on the edge of my seat ever since I finished season 3 of the show.  The 2016 popular series on Netflix Stranger Things is finally coming back.  We have waited a long time for season 4 and the cast and crew have kept information from us. The creators of stranger things Matt Duffer and Ross Duffer known as the Duffer brothers made a social media account to keep us updated on the new season. The director Shawn Levy explains why it took so long to release information about the new season. He states it's a combination of factors, not the least of which being that the pandemic hit right as filming was starting to hit its stride in early 2020. Production was shut down for a number of months. When they started filming again the safety protocols made the filming process a lot slower.
In the last season where we left off, Eleven loses her powers and moves to California. In this season, Mike and the crew leave Hawkins and travel to visit their old friend Eleven but along the way they will face new threats and new problems along the way.
Click below to watch the new trailer for stranger things season 4 coming summer 2022.